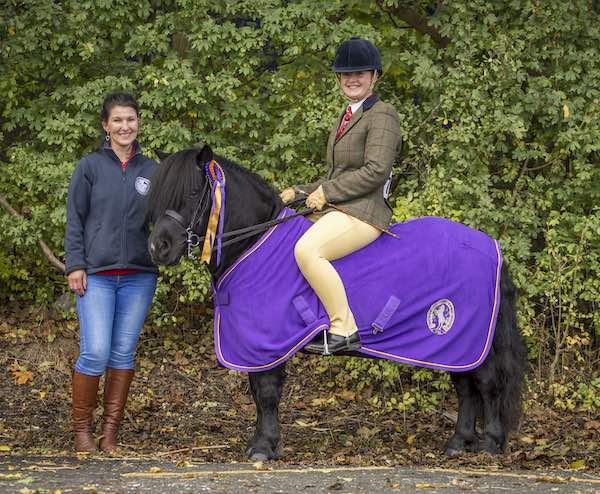 Hools Rising High – 9yr old Homebred Stallion pictured after competing at the Horse of the Year Show 2019 in the TopSpec Arena with rider Arianne Fraser.
We've had a great time, even managed to get interviewed for The Native Pony Magazine & Showing World TV!!
Thank you to Arianne, Roselyn, Kira, Rachael & Issy for their hard work.
Thanks to Barbara & Alan for the B&B, Doreen & Peter Tindale, Abbeyfield Stud, for the fantastic horsey B&B and to Elinor & Campbell, Clothie Shetland Pony Stud for the B&B on the way home.
Thanks to everyone else that's helped that I've forgotten to mention. Thanks also to NorthLink Ferries for help with the travel.
To get to the Horse of the Year Show Hools Rising High's journey consisted of 4 ferry sailings totalling 328 miles and 1,081 of road miles.
He left the island of Whalsay and travelled to his home in Orkney. The next day he travelled across the Pentland Firth and headed south arriving in Staffs 12 hours later. 
After an overnight stay there it was the final hours drive to Birmingham.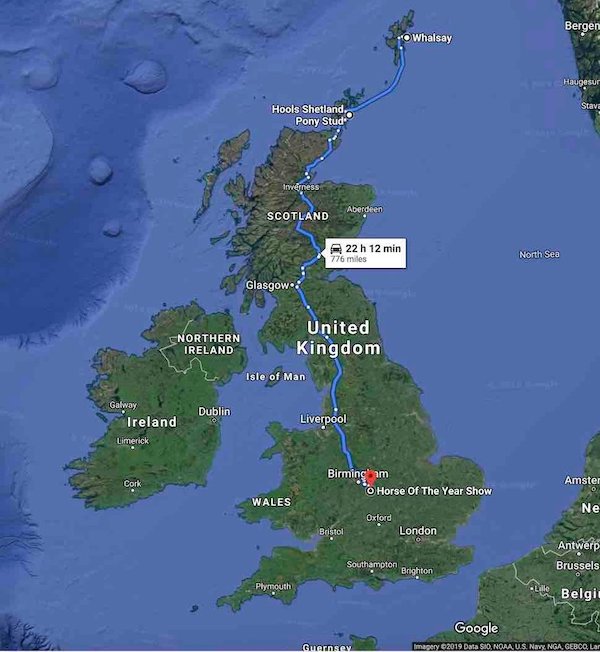 East Mainland Show - Saturday 3rd August 2019 - Judge Miss S Flaws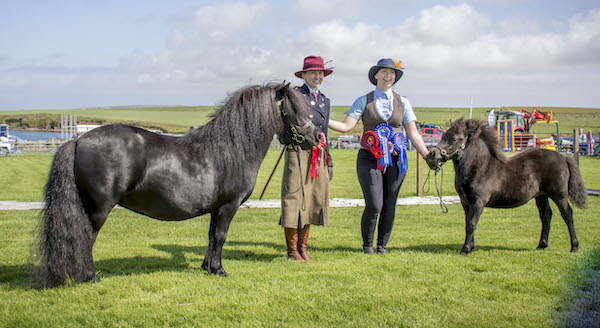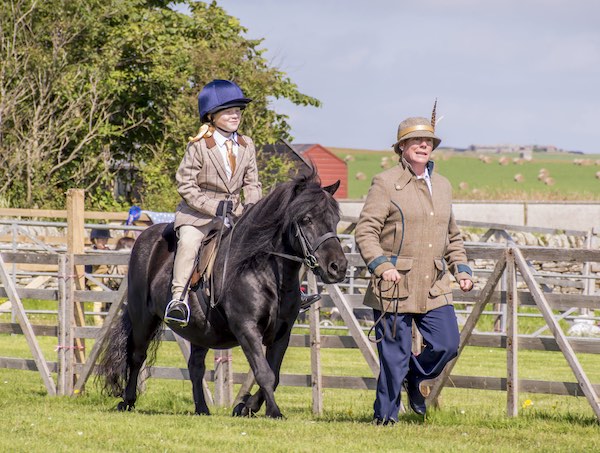 Hools Janet, 6yr old Yeld Mare, Standard Champion, Overall Shetland Champion, Lead Rein Champion, Overall Horse and Reserve Champion of the Yard.
Hools Miss Jura – Filly Foal, Champion Foal, Junior Champion, Reserve Overall Shetland Champion.
Hools Miss Jutland – 3yr old, Reserve Junior Champion.
Hools Major High, 2nd Gelding, 2nd Lead Rein.
Merkisayre Poppy – Brood Mare, 1st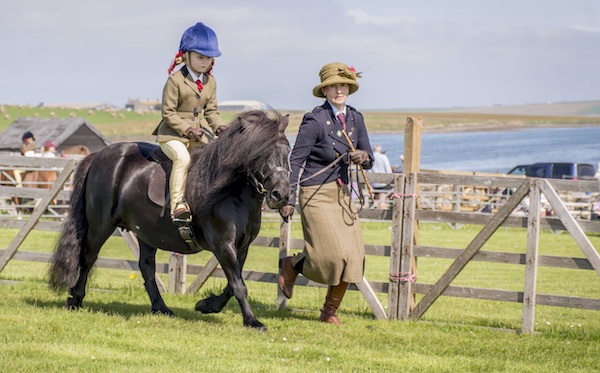 Shetland Pony Breed Show in Shetland - 27th July 2019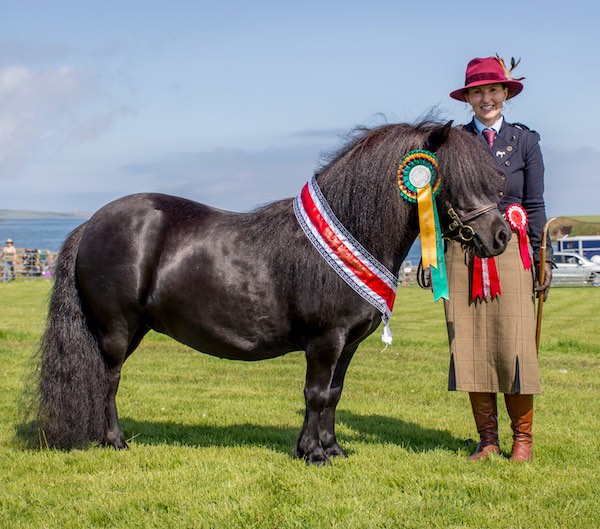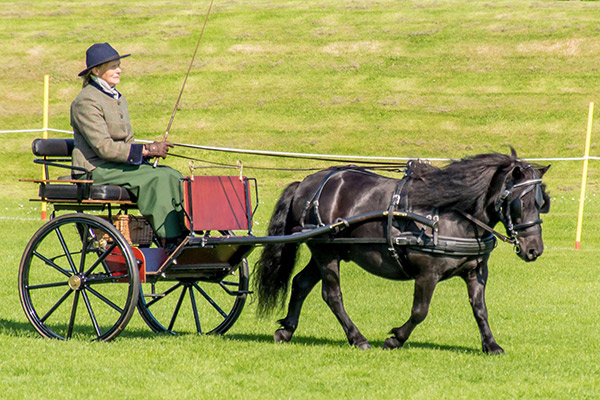 Hools Janet 6yr old Yeld Mare – 1st Brood Mare, Senior Black Champion, Overall Black Champion
Hools Rising High 9yr old Stallion – 1st Open Ridden, Overall Reserve Ridden Champion, Reserve Working Hunter Champion & HOYS Quailifer
Hools Voyager 6yr old Gelding – Driven Champion
Hools Jutland 3yr old Filly – 2nd
Hools J'Adore Yearling Filly – 4th
Hools Janet and 6yr old Rider Layla – 3rd Lead Rein
Hools Voyager and 6yr old rider Daisy – 4th Lead Rein
Thanks to Northlink Ferries for the travel sponsorship, Ali and Kevin for the accomodation and Kelly and Ali for their help on the day.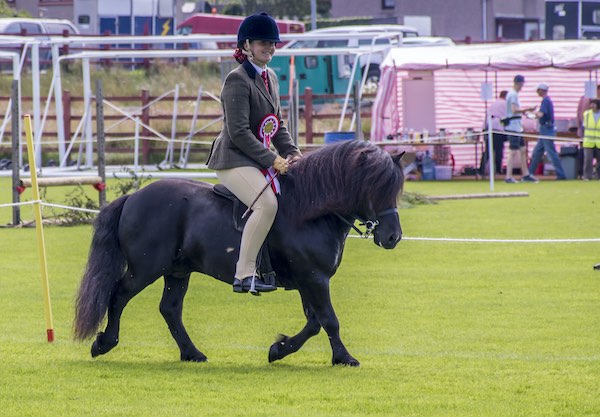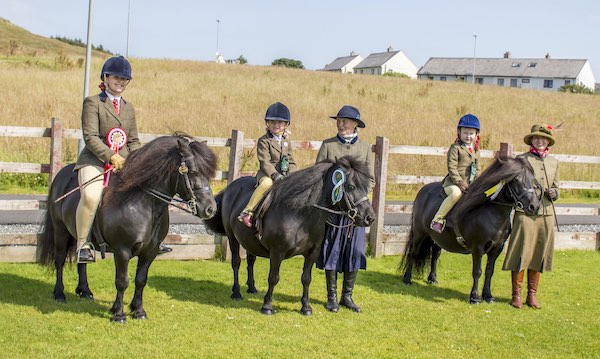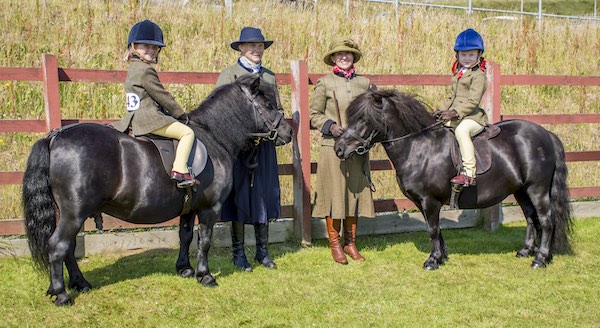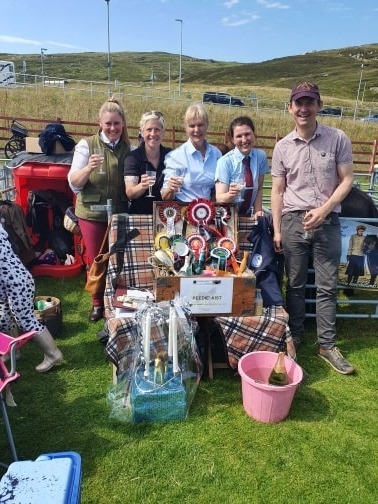 Royal Highland Show - 20th - 23rd June 2019
Attending the Royal Highland Show in Edinburgh for the third time, we took 3 Ponies;
Hools Janet – 6yr old Mare was 3rd in a large Yeld Mare Class on Thursday. Then on Saturday she made her debut in the Mountain & Moorland Lead Rein Class with 6yr old rider Layla. They did fantastic achieving 12th out of 27 with a ride mark of 43 / 50.
Hools Miss Jutland – 3yr old Filly was 2nd in the 2/3yr old Class.
Hools J'Adore – Yearling Filly was 2nd in the Yearling Class.
Thank you to Douglas for his help and to Northlink Ferries for their sponorship.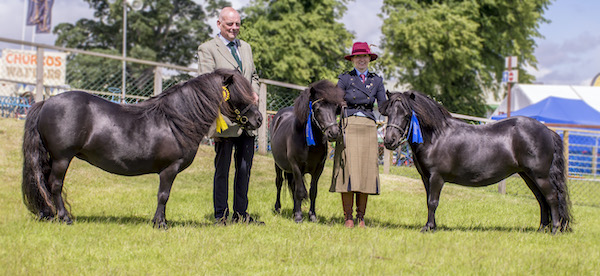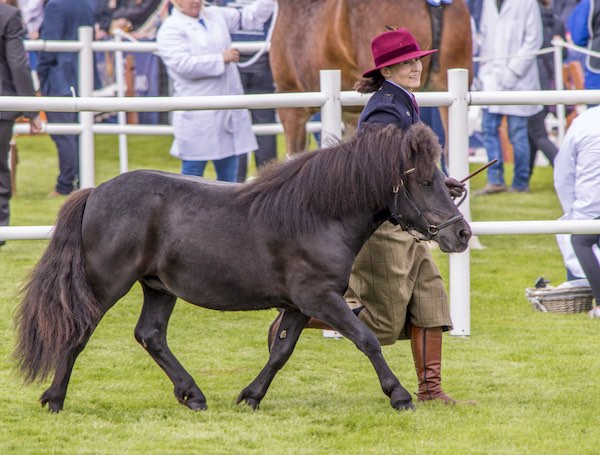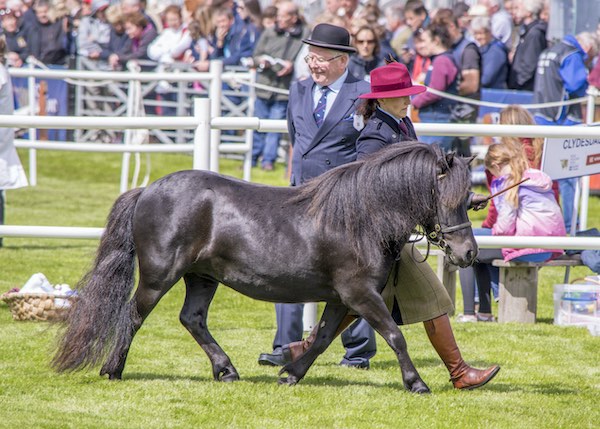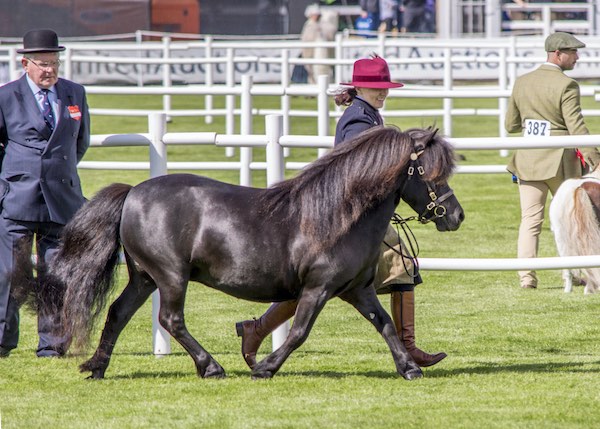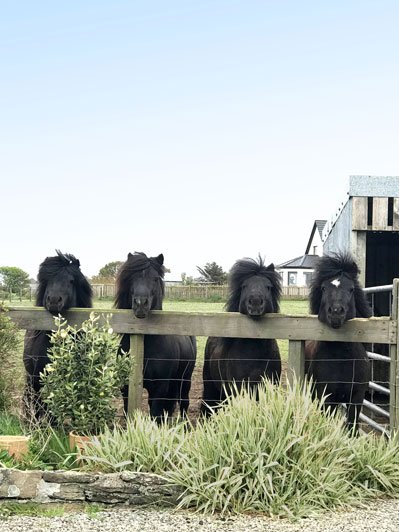 Hools boys all lined up!
Left to right;
Hools High Defintion, 9yr old Ridden Stallion,
Sire Wells Highlight II Dam Merkisayre Poppy
Hools Rising High, 9yr old Ridden Stallion,
Sire Wells Highlight II Dam Wells Fyona
Hools Superb, 3yrs old Colt, Sire Wells Legand Dam Hools Angelina
Hools Iron Duke, 3yrs old Colt, Sire Wells Reliance Dam Hools Royal Diva
Both Hools Superb & Hools Iron Duke are offered for sale, both would make excellent Ridden Ponies and/or Stallions.
A Shetland Pony which was born and raised here in Orkney, made an epic journey this winter, travelling over 900 miles away to its new home in the north of the Czech Republic.
Earlier this year Kelly Peace at Hools Shetland Pony Stud in Toab sold a 3 year old pony, named Hools Essie to Alena Souskova and Hynek Hruska who live near the city of Liberec in the Czech Republic. The journey saw Essie spend a grand total of 34 hours either travelling or taking breaks from travelling.
Kelly competes with her Shetland Ponies at the highest level and has had interest from horse enthusiasts and buyers from around the world. In 2018 she sent one on its way to California.
Essie's new owners, Alena, said the breed fits very well into her area's challenging terrain and tough climate, as Shetland Ponies are typically self-reliant and undemanding. However, she and her partner, Hynek were having a hard time finding a pony to join their small herd at their homestead on the southern slopes of the Jizera Mountains.
Alena said: "We were searching for a versatile animal with good character, a solid assumption to be a great riding pony suitable for children, while having a pedigree based on old bloodlines to secure the overall quality and characteristics of the breed."
"It was very difficult, if not impossible, to find such an animal in the Czech Republic, although the breeding of Shetland ponies has a very high standard here and is keenly and professionally shielded by Czech Association of Shetland Pony Breeders (SCHSHP), as everywhere — the very best animals are just seldom for sale."
"We started to look abroad as well and coincidentally, or by good luck, we found an announcement of an available pony from the Hools Shetland Pony Stud. Immediately, we got very excited about the offer."
"The young filly was a suitable age for us, with great pedigree. The breeder, Kelly Peace, has in addition shown to be very supportive and knowledgeable, able to reply all possible questions and to provide all the necessary information. The confidence for buying a horse without seeing it was built on the breeder's professionalism and on old and worthy human trust."
"Thus we have presumed that a good horse from Orkneys will be a good fit. It was soon obvious, that the distance between the Czech Republic and the Orkney Islands would be the only complication."
Alena and Hynek decided to transport Essie themselves, travelling to Britain. Alena says they were taken by Kelly's "contagious enthusiasm" for native ponies and decided to buy a Dartmoor pony foal as well, from another breeder, Jane Harries from Wales.
Alena said: "After obtaining all the necessary travelling and veterinary documents, the adventure could start. Kelly organised the transport of Essie to Aberdeen, our part was to pick up the pony at the harbour. The travelling group — my husband Hynek, our ten-year-old daughter Ema, who was very much looking forward to see Essie and Britain, and our Dutch volunteer Marnix as a second driver —  left on Tuesday, November 13 2018 very early in the morning, heading to Amsterdam, to catch the ferry to Newcastle. They had a chance to admire the city of Newcastle and several beaches along the shore on their way to Aberdeen."
"On the Thursday morning they picked up the horses from the ferry from Orkney. All the administrative and handling went very smoothly. The journey continued to Wales, where both Essie and the people rested and where Queen of Heart, the Dartmoor pony, was taken on board."
Alena says the group then drove to Dover and the ferry to Calais following. In French, they were held up by the "Yellow Vest" protesters striking. After being significantly slowed down the group eventually reached the Netherlands where they took another rest.
Alena said: "From the Netherlands there was left just the drive across Germany to Liberec, a city in the north of the Czech Republic. The journey back home — with many stops to check, feed and pet the horses, provide water and rest —continued well, without any major technical issues or significant complications. Essie and Queen finally safely arrived to their new home on Sunday, November 18."
"Both the horse, who are getting used to our place, will perfectly complete our herd and are being admired, loved and enjoyed already. After almost a week this big adventure had a happy ending. And as the end was happy so are we — with genuine horses from genuine breeders."
Article extraced ftom The Orcadian – Photo of Hools Essie pulling a sleigh in the snow coutresy of Alena Soušková.