Written 2015
Hools Shetland Pony Stud is run by Kelly Peace assisted by her Mum Jane and with the trusted guidance of her ninety-three year old Grandmother Ivy. The stud consists of 24 Standard Black Shetland Ponies used for breeding, showing, riding and driving.
The Stud began in 1958 on Hools Farm in South Ronaldsay, Orkney, by my grandmother Ivy Edith Mathers Cromarty along with her eldest son Arthur and daughter Jane. They bought a Black Shetland Pony Filly, Shona of Lynn (5455M) from Scotty Watson of the Lynn Stud in Kirkwall, Orkney.
In 1960 Shona of Lynn (005455M) Sire Majestic of Lynn (001566S), Dam Sunray Girl (005214M), had the 1st registered Hools Shetland Pony foal, a filly – Hope of Hools sired by Spear of Marshwood (001675S) pictured right. He sired the 1st 3 Hools Ponies, Hope in 1960, Harra Broo & Helga of Hools in 1961.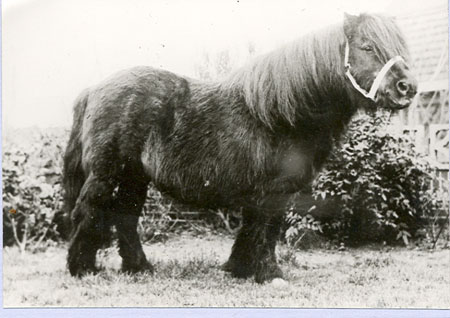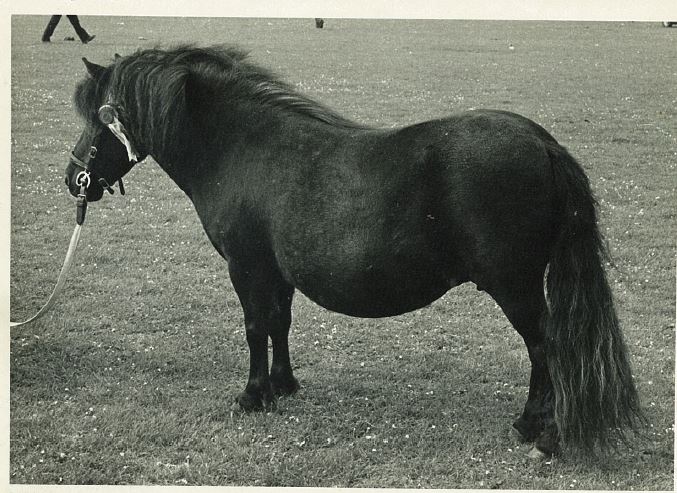 In 1962 Scotty Watson put Ivy in touch with Mrs Cox from the famous Marshwood Stud where she purchased 2 ponies, Janet and Jacinth of Marshwood. Ivy also received the Premium Stallion Spaniard of Marshwood as a gift from Mrs Cox due to his bad behaviour when in Shetland. He was prone to jumping into people's gardens and eating their cabbages! This was a stroke of luck for Ivy as he produced some top quality progeny as well as winning the local County Show 3 times.
Janet of Marshwood (5568M), was born in 1958, sired by Sprinter of Marshwood (1423S) and out of Jane of Marshwood (5277M).
Janet was the main foundation mare for the stud, her lines are still found in the stud to this day. Janet produced 12 foals for Hools, including Janey of Hools (7146M). She was born June, 2 1968, Sired by Fireless of Marshwood (1849S), she was a versatile Shetland, she could turn her hoof to anything including lead rein, first ridden, broodmare and was Overall Champion at local shows numerous times. She even appeared in a 1984 copy of The National Geographic Magazine, being ridden by Kristen (Ivy's granddaughter) in the lead rein class at the county show, wearing welly boots and holding on for dear life! She was mostly shown by Arthur Cromarty, son of Ivy. Arthur and his wife Laura took over Hools Farm in 1974, where his commitments altered to breed and show Limousine cattle (more viable than ponies – he says!), however the stud continued with Ivy's daughter Jane Elizabeth Peace (nee Cromarty).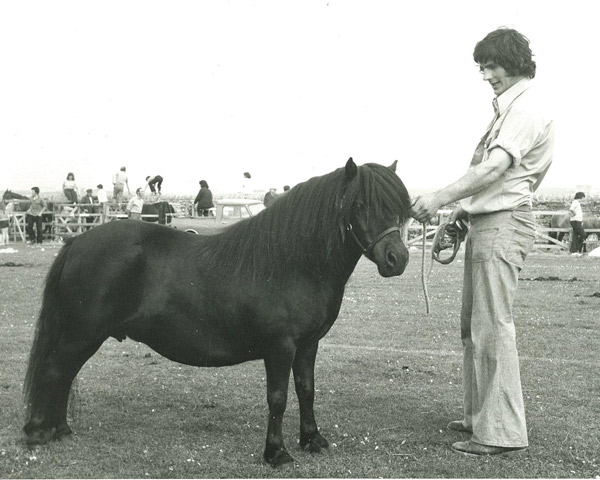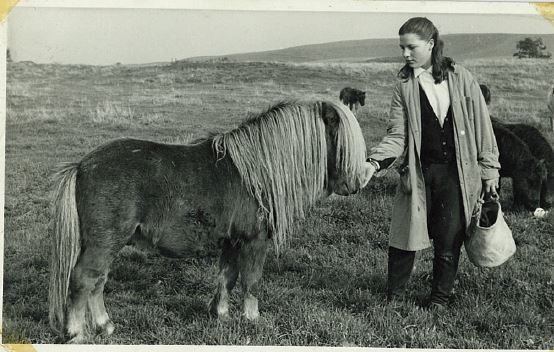 My mum, Jane got her first pony Betty at the age of three. She remembers Hools ponies had always been used to help around the farm, including helping out one very stormy winter taking coal, candles and essential groceries to residents in the nearby fishing village of Herston at low tide as all the roads were blocked with snow, mum remembers it well…time off school!
As soon as she finished the grammar school she was the first Orkney girl to go to Edinburgh to train as an animal nurse at nineteen years old. Before starting her course she spent 5 months working with the celebrated pony breeder Mrs Cox at her Marshwood Stud at Castle Douglas. Jobs included exercising the famous Marshwood driving ponies as well as prepping and training the ponies for shows. It was really hard work but a great experience.
Jane was also fortunate enough to be invited along with Ivy to the Holland Centenary Show by the Dutch Stud Society in the 1966, so off they set taking a flight from Edinburgh to Amsterdam! The programme was outstanding hosting a great variety of showing classes, driving, pony gymkhana and a pageant. Something that they had never experienced before and will never forget!
The stud took a back seat with her at the helm, as her time was spent taking me to pony club and helping my dad with his thoroughbred horses.   
Greek mythology had its flying horse, Pegasus, but so did we…. In 1966 Orkney Wedding of Hools (5994) a skewbald filly foal, Sire Florin (1851S) and out of Illona of Hools (005994M), was the first Shetland pony to fly on Faroes Airways from Kirkwall to Copenhagen where she was sold to Mr & Mrs Jantzen of Rytegaard, Denmark.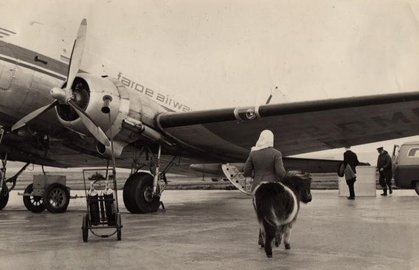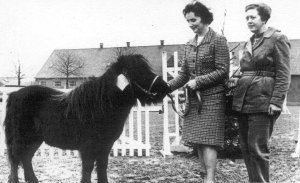 Then in the spring of 1967 Mr & Mrs Jantzen purchased a black colt Spaniardson of Hools (1954S). Born in 1964 Spaniardson was sired by Spaniard of Marshwood (1484S) and out of Janet of Marshwood (5568M). Ivy was invited to Denmark in March 1968 where she showed Spaniardson at the Danish Stallion Show where he was judged best 4yr old Stallion.
I guess I was destined to follow in my granny and mothers footsteps as from the age of two I got my first Shetland pony gelding Scapa Too. Purchased from the late Archie Jamieson of the Scapa Stud, Orkney, which has now sadly dispersed.
I continued to ride, show and drive until I was eighteen when I moved away from Orkney. I returned in 2007 and naturally fell back into the stud. I wanted to put my own stamp on the breeding, after seeking advice from my grandmother we both set off to the Aberdeen Sale in October where she introduced me to her late friend Harry C Sleigh. He invited us along to St Johns Wells for tea with his wife Ann and afterwards we were shown around his famous Wells ponies. Amazed at the quality of Harry's ponies my first question was 'do you have any for sale?' He picked out a 5 year old filly, Wells Perrier Sired by Wells Royal Command and out of Wells Patience – this was to be my own foundation mare.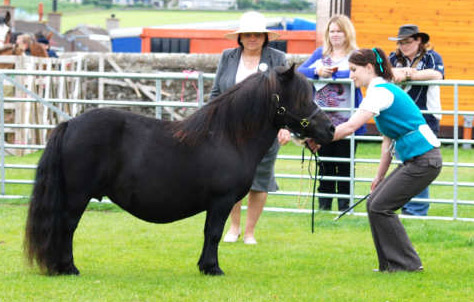 As well as purchasing Perrier I thought it would be good to reintroduce old bloodlines back into the stud. After lots of researching, emailing and phone calls to various people, we traced down two fillies that stemmed back to Judith of Hools daughter of Janet of Marshwood – my Grannies most successful mare. These ponies were bred by George & Barbara Tait of the Merkisayre Stud in Shetland. Everyone knows George loves his ponies, hence it took a lot of begging to acquire Merkisayre Poppy and Merkisayre Be-Bo.
In 2009 with a mix of old and new ponies Granny, Mum and myself travelled north to Shetland to attend the S.P.S.B.S Breed Show, the first to be held in the Isles. We had success with Merkisayre Poppy who won a strong black 3 year old filly class. After the class George Tait sneaked into our pen and tried to take Poppy back to his pen, claiming he had sold the wrong pony!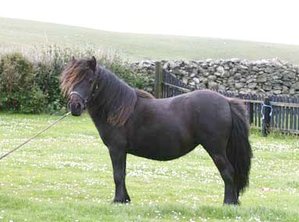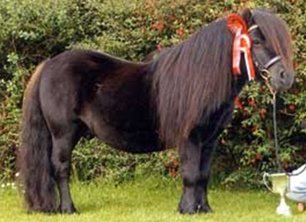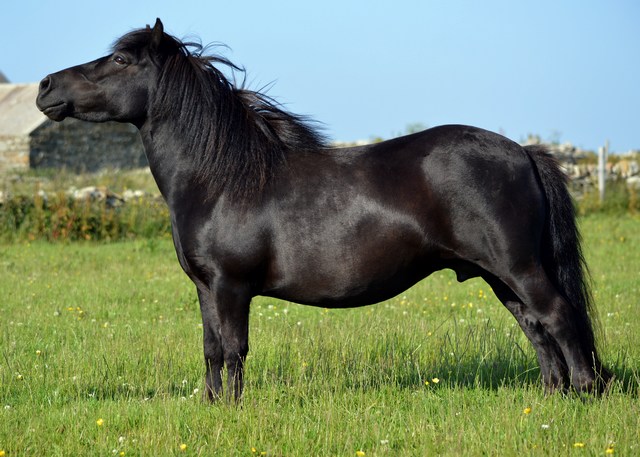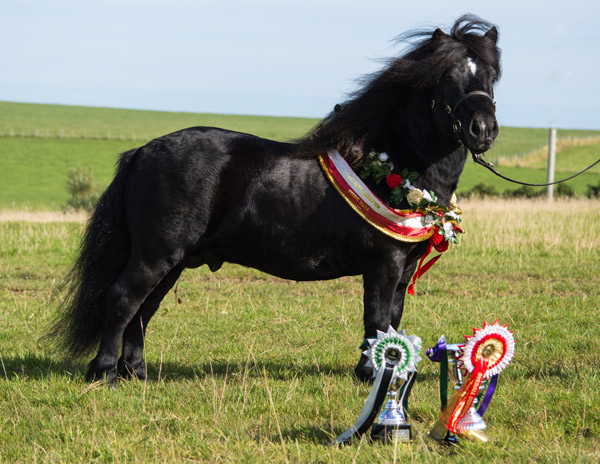 2010 saw the arrival of my first foals, two fillies and three colts all sired by Wells Highlight II, five times Royal Highland Show Champion. The most successful has been Hools Rising High (Wells Fyona x Wells Highlight II). After passing his stallion assessment he was leased to June Brown's Shoormal Stud in Shetland as a 3 year old winning two Championships at the three shows he attended. Rising High is now Stud stallion at Hools. He has been lightly backed for riding and is continuing his showing career with success, travelling to The National Stallion Show at Ingliston getting 2nd in a big class. He also won Orkney Horse of the Year 2015, an amazing achievement going against so many different breeds and riders.
In 2013 the hard work of researching old bloodlines really paid off. The Hools 'J' line was reborn with the filly Hools Janet. Sired by Wells Masterclass and out of Merkisayre Poppy. Janet has done well in the show ring so far winning 3 Junior Championships, 1 Reserve Junior Champion and 2 Reserve Overall Championships. She is the type of Shetland pony we are aiming to breed with good bone, substance & movement, perfect for showing, breeding and performance work.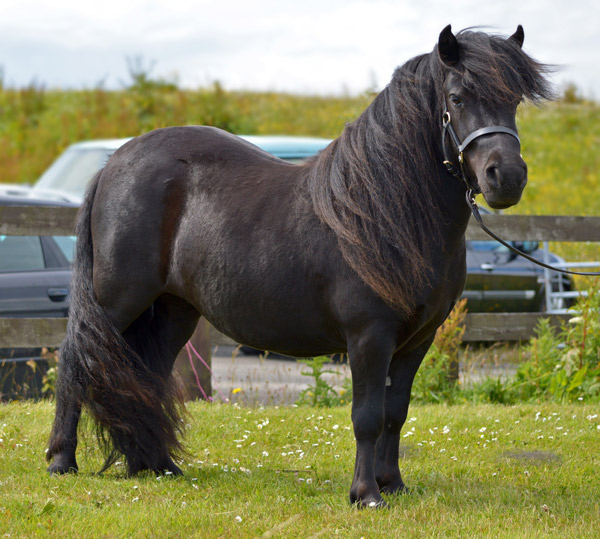 I have also broken several ponies for riding, Heather of Hools, Hools Ann, Strocherie Ennya and Hools Major High. Ennya has been the most triumphant winning serval lead rein championships and even competing at the illustrious NPS Scottish Finals at Blair Castle. Her son Major High is following in her footsteps, currently being ridden by my daughter Layla. He has also been ridden by a 10 year old and competed in the Riding Club Dressage League. This winter he is in training to be a driving pony showing how versatile he is.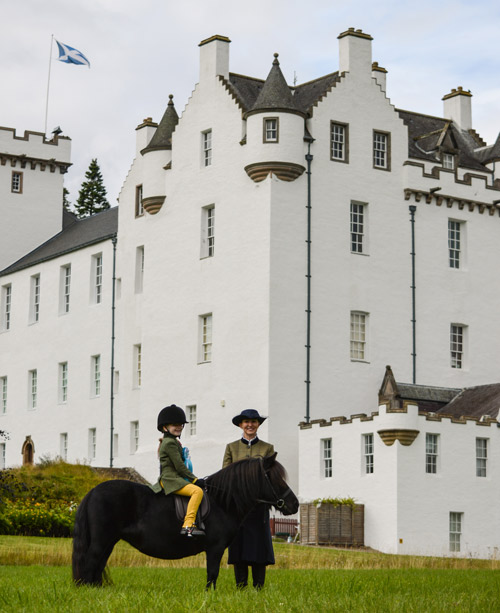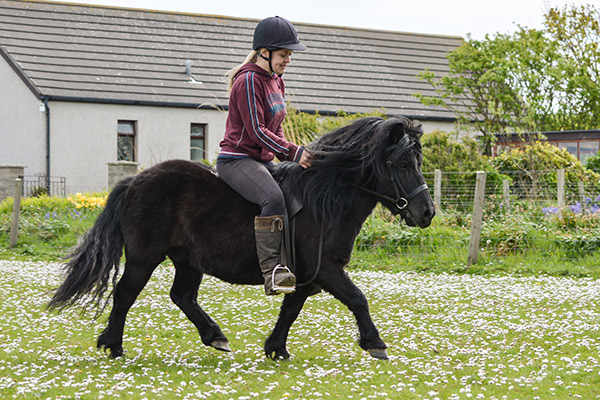 4th Generation – The Future
My daughter Layla was born in 2012, and is already involved, every morning after getting up she looks out the window and counts the ponies! At 18 months she started riding Ennya and has now moved onto to Major High. She's competed at shows in Orkney and Shetland as well as being the youngest person to take part in the historic tradition of the Riding of the Marches, an event where roughly 100 riders ride around the boundary of Kirkwall every August. Her biggest success, (apart from making the front cover of the S.P.S.B.S magazine winter 2014), was winning the Lead Rein Class at the local riding club Winter Woolie Show 2015. Hopefully she will remain interested and ride/drive many more Hools bred ponies with one day taking over the stud….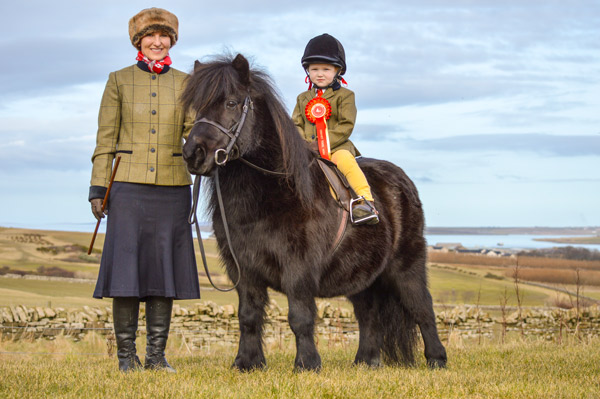 To date there has been 180 foals registered with the S.P.S.B.S. Since 1958 the stud has won the Champion Shetland Pony at the Orkney County Show 11 times with 7 Reserves, 5 Supreme Overall Horse and 3 Reserves. In 2015 we won Supreme Horse, Champion Shetland and Reserve Shetland, Hools last achieved that same result in 1965!
Orkney County Show Results
Shetland Pony Results from Orkney County Show from 1958 to the Present day